"LeadershipOnRamp serves organizations raising up leaders."
LeadershipOnRamp mobilizes more leaders for more places. Our unique process equips churches, networks and denominations to raise up leaders from within. It is locally based, Christ centered and effective. OnRamp increases momentum for a multiplying movement of churches.
Here's what's involved…
PREPARE – Local Churches and Movement leaders are equipped to identify emerging leaders in their movement. OnRamp Team training and Network based training is available to assist with a roll out plan. An OnRamp Team leads the process for their geographic area.
ENGAGE – The OnRamp  Event brings leaders together to evaluate and encourage future leaders. This live Event calls candidates and local stakeholders together for a tightly packed one-day assessment process that involves activities, interviews and training. Preceding the training candidates have 15 to 20 hours of personal assignments which they share with their team using a secure Online Account. Following a full day of interaction trained interviewers synthesize insights using a well defined system resulting in a Findings Report customized for each candidate.
EQUIP – Following OnRamp leaders choose from a suggested menu of training options. The may be used along with networks and denominations that have prescribed courses for their candidates. LeadershipOnRamp uses our RoadMap tools to intentionalize both the training process and set up a coaching relationship for personal development. Coaches have access to basic online training to equip them to use the RoadMap tool. Candidates have access to ongoing training through events, networks and apprenticeships.
Download Presentation: OnRamp – Event Overview
OnRamp – Organizational Preparation
Kinds of Leaders Mobilized:
Gifted Church Planters and Missional Community Leaders
Coaches: Equippers, Encouragers, Developers
Interviewers: Discerners, Encouragers, Imparters
Movement Stakeholders: Vision casters, Fundraisers, Equippers, Intercessors
PREPARE
6 Month Prep
Vision: 1 – 6 Months
Define: Mission, Outcomes, Biblical Purpose
Movement Vision: Communicated in a compelling way for leaders and churches.
Involve: Partners, Stakeholders, Trainers and Helpers
Why will churches and leaders focus on mobilizing leaders in your movement?
Team: 2 – 3 Months
Objective: Oversee the implementation of organization wide mobilizing strategy
Outcomes: Team developed, churches mobilized, candidates recruited, events planned and training provided.
Roles: Head Coach, Interviewers, Observers, Intercessors, Admin and Concierge
Who will lead mobilizing for your movement? How will they customize your OnRamp?
Train: 1 – 2 Months
Who: Coaches, Interviewers and event staff equipped for their roles.
Why: OnRamp participants and staff prepared for their OnRamp experience.
How: Online video, Worksheets, Password protected account.
What will be the orientation and training process for your OnRamp participants?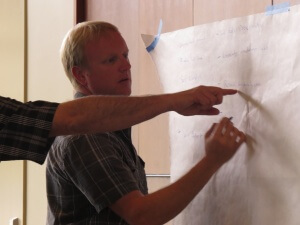 ENGAGE
One Day
OnRamp Activities
Facilitated exercises and discussions. Personal Interviews. Training.
OnRamp Staff Activities
Hospitality provided.  Data compiled. Reports Prepared.
Team Roles
Head Coach, Concierge, Interviewers, Coaches, Pastors and more.
EQUIP
Debrief: 1 – 2 Weeks
Involve OnRamp Team and coaches in writing reports.
Comments summarized and checked for accuracy.
Interviewer, Coach, Candidate meet to debrief their experience.
How will the observations from the OnRamp Event be shared with your candidates?
Coach: 2 – 4 Months
Orient coaches on using tools and facilitating a growth plan.
Coaching relationship empowered with follow–up assignments.
Coach, Candidate and others commit to a growth plan
What outcome will the candidate and coach work on together?
Equip: 3 – 36 Months
Identify equipping opportunities for future development.
Emerging leaders provided with ongoing opportunities to develop skills.
Movement Leaders Leaders-in-Training Stakeholders
What equipping opportunities will be provided for your emerging leaders?